CERVICAL AND SPINAL CHANGES

The trunk can be deformed by excessive lumbar lordosis (swayback) that develops early in life. Scoliosis, which is a side-to-side curvature of the spine, may also begin in infancy, becoming more severe with weight bearing and leading to both trunk deformity and barrel chest. Kyphosis, which is an in and out or s-shaped curvature, accompanies the scoliosis in variable degrees, and the resultant kyphosis [abnormal flexion] of the neck vertebrae, may cause catastrophic neurological problems. Because of these problems, it is very important to have your DD child followed by an orthopedist, preferably a dwarfism specialist, who will monitor your child's spine.

WHY MOBILITY BECOMES A PROBLEM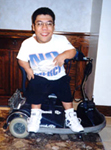 The combination of marked limitation of motion of all major joints together with a tendency toward dislocation and subluxation [partial dislocation] are characteristic of diastrophic dwarfism. Virtually every joint is likely to develop stiffness. This is due to the severe deformities of the long bones and the growth plates of the long bones, as well as soft tissue contractures, which cause shrinkage and shortening of the muscles. Progressive dislocation of the hips and knees (including the knee cap) are often observed. Hip dislocation occurs in about 22% and hip dysplasia has been reported in 70% of diastrophics.

DOING IT MY WAY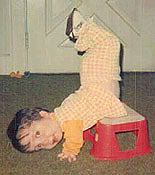 Children with diastrophic dwarfism may reach motor milestones of development more slowly than their average-sized counterparts. Diastrophic dysplasia does not affect intelligence, although speech can be affected by cleft palate. Some average examples of motor milestones among children with DD are as follows:
- Head control, 2.5 months
- Roll side to side, 5-12 months
- Sitting unsupported, 7-12 months
- Crawling, using a commando crawl, 7-18 months
- The diastrophic "scoot", 8-15 months. This is when the child is
sitting on the floor scooting along on his/her bottom. You have to
see this to appreciate it.
- Pulling up to standing, 12-24 months
- First steps, 15-24 months
- Walking, 24+ months


Many of these children will have had several surgical procedures in the first 48 months of life, delaying accomplishment of "normal" motor milestones. A diastrophic child with clubfeet and/or dislocated hips could spend months in long-leg casts or a "spica cast" (waist to toes) making mobility impossible. The diastrophic child with cervical kyphosis of the neck will undergo surgery/fusion and be placed into a "halo" neck traction device for months. During these lengthy recoveries, parents can provide extra opportunities for their child to use his/her hands with various toys, games, art projects, etc. Once the casts are removed, physical therapy, including swimming, is recommended to loosen the stiffness and to strengthen the muscles and bones. Depending on the age of the child, potty training, walking and self-dressing might need to be re-taught.